Welcome Bobcats!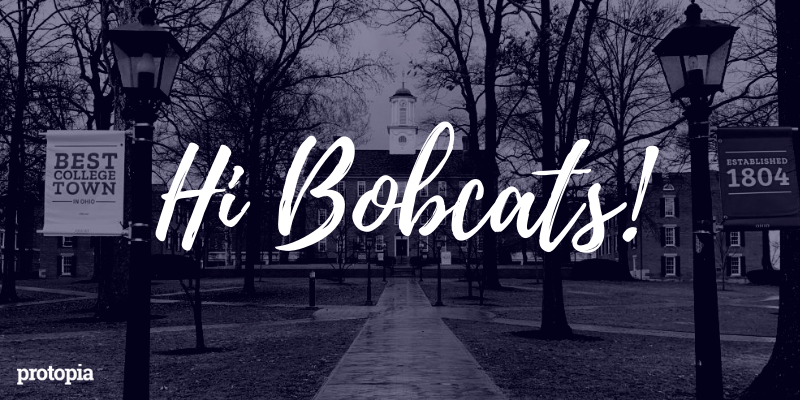 January is mentoring month which makes it  the perfect time to launch our partnership with Ohio University's entrepreneurship program. And, because Paul Benedict, Executive Director of the Center for Entrepreneurship at OU, has vision. Big vision for supporting innovators at OU and its community.  
Mentoring of course is a tricky proposition for students because now more than ever, they are simply looking for help with an idea or a budding venture. Alumni, who want to make an impact but — like most of us — are stretched for time, and focused on today's health and economic challenges. This is where we come in. Protopia makes it easy for them to give back right from their inbox without signing up for or learning a new app (since they already use an average of 35 different apps a day).
Paul and team are launching the Protopia-powered Bobcat Innovators Group (BIG) to make it easy for them to "meet" for informal mentoring – on their terms. Students simply ask, and artificial intelligence technology identifies and privately recruits the best available mentors to assist (with nothing new to sign up for or learn). 
Paul already has several high schools interested in using BIG to let their students tap the amazing community of experienced entrepreneurs and operators for startup and career advice.

"We chose Protopia because it is simple for students, for alumni, and for our staff. That simplicity gives us a unique opportunity to extend entrepreneurship mentoring to our community and make an even greater impact." said Paul.. "And Max and team could not have made launching easier, and were alongside us all the way."
Protopia's no-app AI technology also means that Paul and team don't have to find more hours in their day to support a new system. BIG's smart automation makes sure that students are coached, questions get answered, and alumni can make an impact one request at a time. 
What excites me most about the collaboration with OU is the vision to let prospective students access the Bobcat Innovators Group – not only to get solid entrepreneurship advice but also to create affinity for OU by connecting with alumni.
Let's go Bobcats!
Max is Founder and CEO at Protopia, the simplest engagement platform on the planet. Also father of the four horse monkeys of the apocalypse, two dogs, two cats, and a guinea pig that has long overstayed its welcome.