We love Panthers!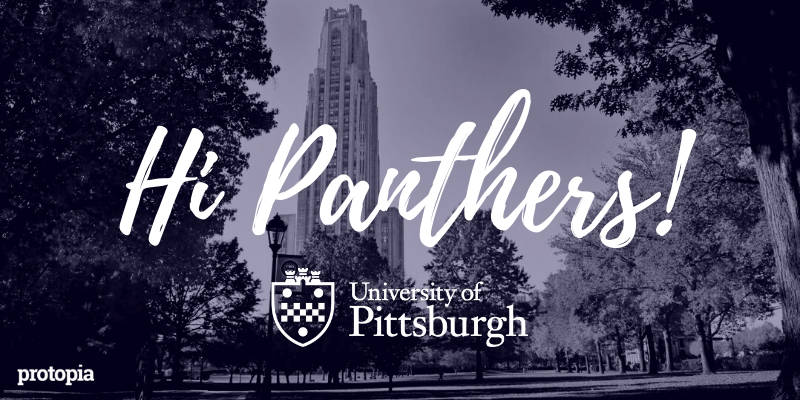 We are super excited to announce our partnership with the University of Pittsburgh to help students (and graduates) get advice and support from a massive, global community of over 300,000 alumni and supporters.
Why is that cool? For starters, Pitt is located in one of the best places to live in the United States, is a top-ranked public university, and is at the forefront of many important issues (such as racism). More importantly, the alumni team at Pitt is full of innovators and knew what they didn't need.
"Our alumni, our students, and our team are all app'd out. We chose Protopia because we need a simple and scalable tool to let our alumni give back without throwing another platform at them." says Nancy Merritt, Vice Chancellor for Alumni Relations at the University of Pittsburgh.
Alumni want to help those walking in their footsteps and make an impact. But it has never been harder: everyone's busy, adjusting to the "new normal", overwhelmed by new technology, and concerned about their privacy.
It's never been easier to develop a new, pretty UI. And never been harder to make it work for humans. Not a day goes by without a new app without much consideration to the collateral damage on our ability and desire to change what we do. With Pitt it was an immediate mind-melt.
So rather than "another platform", Ask Pitt Alumni serves highly-relevant opportunities to help a student or graduate via email to 10-15 carefully-curated alumni selected from Pitt's existing systems. Alumni can blindly choose to give as little or as much as they want to. Or, if the time is not great, they can guilt-free decline and Protopia's algorithm simply engages the next-best alum. Until the question has been answered so that students experience the power of the network and develop strong own giving muscle tissue.
Max is Founder and CEO at Protopia, the simplest engagement platform on the planet. Also father of the four horse monkeys of the apocalypse, two dogs, two cats, and a guinea pig that has long overstayed its welcome.