UNC-Chapel Hill entrepreneurs connect via Protopia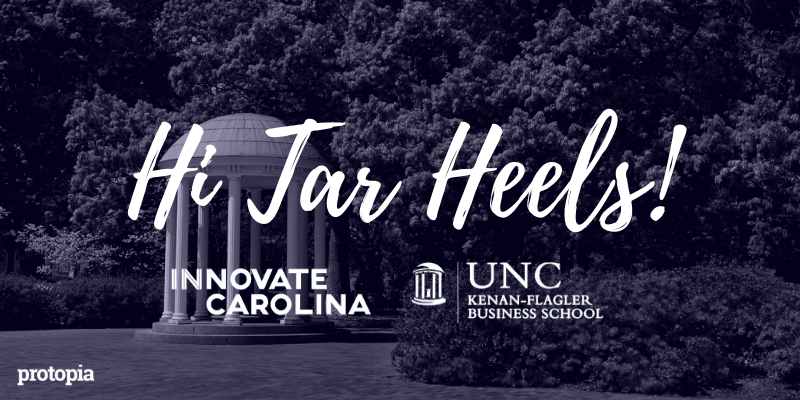 RALEIGH, NC [July 30, 2020] – Protopia, the leading alumni activation platform for colleges and universities, is pleased to announce its partnership with two innovation and entrepreneurship organizations at the University of North Carolina at Chapel Hill. Through a collaboration with Innovate Carolina, which leads the University-wide initiative for innovation and entrepreneurship, and the Kenan-Flagler Business School's Entrepreneurship Center, Protopia makes it easy for students, faculty and others in the Carolina community to get advice and support from thousands of experienced innovators, entrepreneurs, operators and investors who are connected to UNC-Chapel Hill.
"We are excited to launch the Protopia platform, which allowed us to create a new digital tool called Ask an Innovator for our University community," said Sheryl Waddell, director of the Innovate Carolina Global Network. "It's an easy way for people who are working on valuable ideas that have the potential to make an economic or social impact to get advice and make connections. Just within the first week of the deployment, we have already seen meaningful conversations and connections transpire within our I&E community."
Once a student, faculty member or other member of the Carolina community submits a question via Ask an Innovator, Protopia automatically analyzes and sends the question via email directly to the inboxes of a small group of hyper-targeted experts drawn from a multitude of UNC-Chapel Hill innovation communities and networks, including the 1789 Hub, the Adams Apprenticeship, Carolina Angel Network, the Carolina Challenge, and Launch Chapel Hill.
"As a Kenan-Flagler MBA, I know first-hand the power of the UNC-Chapel Hill brand and community," said Max Leisten, CEO and founder of Protopia. "Not only am I excited about helping this community connect digitally, but as an entrepreneur it is now easier than ever for me to give and get help via Ask An Innovator."
About Protopia
Protopia, the leading alumni activation platform for colleges and universities, connects higher education communities for advice and networking at institutions such as Duke University, the University of North Carolina at Chapel Hill, the University of Michigan, and North Carolina State University.
Based in Raleigh, North Carolina, and founded in 2017, Protopia's artificial intelligence technology increases community engagement and volunteering at scale, without another database for the institution or another app for alumni. Protopia enhances schools' existing platforms or can be implemented as a standalone solution.
Max is Founder and CEO at Protopia, the simplest engagement platform on the planet. Also father of the four horse monkeys of the apocalypse, two dogs, two cats, and a guinea pig that has long overstayed its welcome.