We love all of your alumni portals the same
As a parent, you know the question: can we / should we all love our children the same? As a father of the four horsemonkeys of the apocalypse, I plead the fifth.
As a no-app artificial intelligence technology company that helps universities increase alumni engagement and generate donor leads, my answer is "yes, we love all alumni portals the same." Because we want to help you make them work better for your alumni and students.
Not Another Facebook
We discovered early on in our startup journey that the answer to increasing engagement and impact is not another portal. Solutions like Almabase, Graduway, Hivebrite, and Peoplegrove already have all the cool directory, event management, mentoring, and social media features you'd want. But we kept hearing from higher education leaders (like Sterly Wilder at Duke and Nancy Merritt at Pitt) that alumni are not looking for another Facebook, that they're app'd out and need easier ways to reconnect to their alma mater (really no wonder with an average of 35 different apps that we use a day). And that the answer to not-enough engagement is not a new shiny platform.
We also learned through our partnerships that incremental improvement is a much better strategy than wholesale change. With 3 – 7% of alumni on average signing up for that new portal (and around 1 – 3% engaging regularly), how do you now bring those hard-to-reach busy, stressed, and, yes, non-caring alumni into the fold? And avoid landmines of (a) a new solution provider promising to "fix alumni engagement once and for all" to your Vice Chancellor and/or (b) different portals on campus derailing your one-portal-to-rule-them-all strategy.
You know all of this.
Keep The Baby And The Bathwater
No, you do not have to throw out your portal or directory because COVID-19 "has changed the game." The problem is not that you're missing a critical feature but that your alumni and students are done with portals. It's never been easier to build a new directory, and never been harder to make it work. Except that we believe that technology has advanced enough to make engagement more natural, more humane, for alumni and students (Alexa anyone?).
We built Protopia from the ground up to with one goal in mind: simplicity. Simple to use, simple to implement, simple to support. And to complement existing investments in alumni technology.
How?
First, we've lowered the barrier to engaging so that more alumni can give back "on their terms", through the tools they already use (email, SMS, Slack, etc.), without another app.
Second, we made engagement seamless and "familiar" to encourage alumni and students (after connecting with each other) to engage further through that Graduway or Peoplegrove portal they are already using or have heard about. Perhaps though with more purpose.
The Emory University Alumni Engagement Funnel
Like many of our customers, Emory has a super passionate alumni community and offers them many ways to engage, volunteer, stay updated on news, connect with local clubs and more (including its alumni portal). Yet true innovators never rest, and the team identified a need at the top of the funnel to make it even simpler for unengaged alumni to make an impact. Enter Protopia.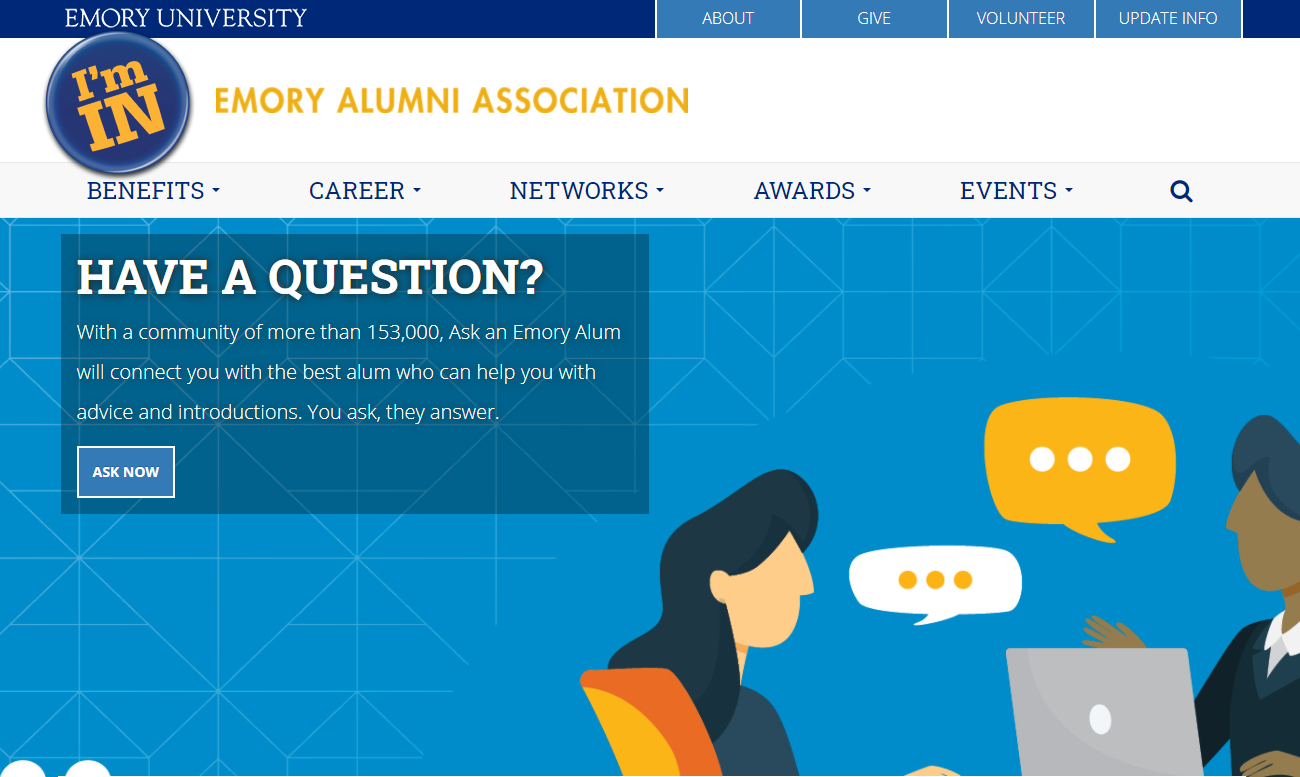 On  March 25th the Emory Alumni Association team will share how it defines and manages its engagement funnel, how it uses Protopia to make engagement super simple (while enhancing its existing tools such as Graduway), and how it measures impact (using the CASE engagement metrics).
Click here to join us for the live webinar.
Max is Founder and CEO at Protopia, the simplest engagement platform on the planet. Also father of the four horse monkeys of the apocalypse, two dogs, two cats, and a guinea pig that has long overstayed its welcome.