Welcome Cal State Northridge!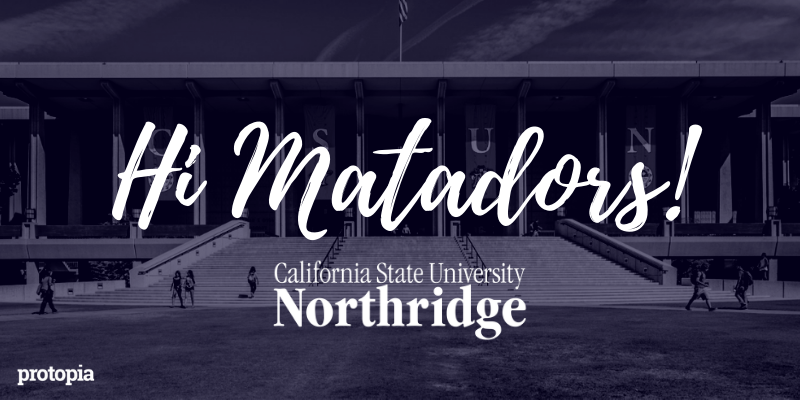 RALEIGH, NC [August 6, 2020] – Protopia, the leading alumni activation platform for colleges and universities, is pleased to announce its partnership with Cal State Northridge (CSUN) in Los Angeles. Students will use CSUN's Ask a Matador to connect with alumni for advice and support.
"With over 370,000 alumni, we have an incredibly diverse and passionate community that is always looking for ways to support each other and students." says Samantha Delagardelle Varner, Director, Alumni Relations and Engagement at Cal State Northridge (CSUN). "With Protopia it's not only easy to 'just ask' for advice, but our busy alumni can choose to help and mentor or simply pass the baton to the next-best Matador – without another app or loss of their privacy."
CSUN alumni receive carefully-curated requests from students right into their email inboxes based on many dynamic factors, including experience, degrees, skills, location, and historic engagement activity so that busy alumni won't get taxed with too many questions. When an alum indicates that she is not available, the next best graduate receives the request – until the question has been answered."
"Traditional directories often not only suffer from the 'paradox of choice' phenomena, but also uneven engagement." say Max Leisten, CEO and Founder at Protopia. "Students seek to connect with alumni at desirable employers while other alumni at less well known organizations may be much better equipped (and motivated) to help with a particular problem. At CSUN, our artificial intelligence identifies and recruits the best, available alumni for students – to ensure that diverse and previously unengaged alumni are activated with relevant requests."
About Protopia
Protopia, the leading alumni activation platform for colleges and universities, connects higher education communities for advice and networking at institutions such as Duke University, the University of North Carolina at Chapel Hill, the University of Michigan, and North Carolina State University.
Based in Raleigh, North Carolina, and founded in 2017, Protopia's artificial intelligence technology increases community engagement and volunteering at scale, without another database for the institution or another app for alumni. Protopia enhances schools' existing platforms or can be implemented as a standalone solution.
Max is Founder and CEO at Protopia, the simplest engagement platform on the planet. Also father of the four horse monkeys of the apocalypse, two dogs, two cats, and a guinea pig that has long overstayed its welcome.